From belay commands to non-verbal rope tugs to communicating your preferences with your climbing partner ahead of time, these examples demonstrate the significance of effective communication in the climbing community. 
The following skills not only enhance climbing experiences but also offer valuable lessons in leadership and teamwork, emphasizing the importance of articulating thoughts, actively listening, and adapting to diverse preferences.
Let's delve into the essential aspects of communication in climbing:

Practicing Clear Instructions

Belay Commands



When climbing, belaying is a crucial safety component. Climbers must provide precise commands to their belayer, such as "On belay," "Climbing," "Take up slack," and "Lowering." A miscommunication in belay commands can have severe consequences, making it imperative to convey these instructions clearly.

Route Beta



Before attempting a climb, climbers often share information about the route, its challenges, and potential hazards. Effective communication about the route's specifics helps the team plan accordingly and anticipate difficulties.

Team Coordination

Multi-Pitch Climbs



In multi-pitch climbing, where the route is several rope lengths long and needs to be divided into several segments, climbers must communicate efficiently while transitioning from one pitch to the next. They exchange gear, relay information, and discuss strategy. Effective communication ensures a smooth transition and minimizes delays. It's also important to note that belay commands are particularly important in multi-pitch climbing since you often can't see your climbing partner due to an overhanging wall.

Group Decision-Making



With NOLS, cragging can involve group decisions, such as route selection, changing climbing plans due to weather, or adjusting for unforeseen obstacles. Effective communication allows everyone's voice to be heard, promoting consensus and reducing the likelihood of misunderstandings.

Non-Verbal Communication

Rope Tugs



Verbal communication can be challenging on multi-pitch climbs. In these situations, climbers tend to employ non-verbal signals. For instance, a series of rope tugs can indicate a specific belay command, offering an alternative method if your climbing partner cannot hear you. It is vital that these rope tug commands are predetermined before you start climbing.

Positivity and Support



Effective climbing communication encompasses not only words and gestures but also the essential practice of gauging the climber's preferences. It involves asking whether they prefer silence or cheers, if they want advice or seek to solve challenges independently. 
This practice of seeking consent and understanding individual needs is a cornerstone of our leadership progression in climbing courses. These skills extend beyond climbing, teaching individuals the value of obtaining consent, asking before assuming, and adapting to others' preferences.
Feedback and Reflection
Consolidating Feedback
After a climb on a NOLS course, climbers are encouraged to provide feedback to one another. Both positive and constructive feedback help the team learn and grow. Effective communication during these debriefs ensures that the feedback is well received and effective 
In the context of NOLS rock climbing courses, these communication examples highlight the importance of clear, timely, and precise communication. They teach students not only to articulate their thoughts and instructions effectively but also to actively listen and engage with their climbing partners and teams. Such skills are invaluable in the climbing community and can be directly applied to leadership scenarios where open and efficient communication is key to success.
Developing Resilience and Problem-Solving Skills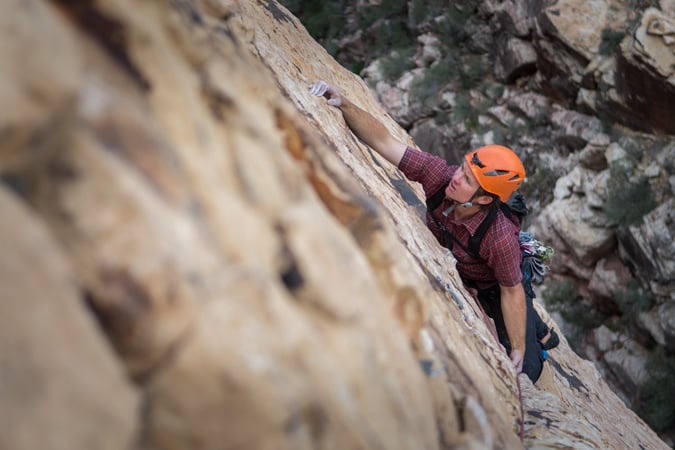 Photo by Jared Steinman-Snavely
When unexpected challenges arise, climbers and leaders alike must adapt and problem-solve on the spot. Rock climbing with NOLS offers multiple opportunities to develop your resilience and problem-solving skills. This adaptability translates well to leadership roles where unforeseen issues can arise at any moment.
The unpredictable nature of outdoor rock climbing provides ample opportunities to practice adapting to a variety of scenarios. Alpine climbers, for example, face constant weather changes, unexpected rock conditions, and potential route alterations. 
As a climber, when you encounter adversity and uncertainty, you must rely on your own abilities, as well as your team, to overcome these obstacles. This can include making quick decisions to change routes or come up with alternative strategies when faced with unforeseen challenges.
As you apply these skills off the crag, you will be better prepared to face setbacks in both your personal and professional life armed with a problem-solving mindset. By fostering the development of resilience through rock climbing, NOLS equips you with the necessary skills to excel in all aspects of your life.
Expedition Behavior, Self-Awareness, and Group Dynamics on the Rocks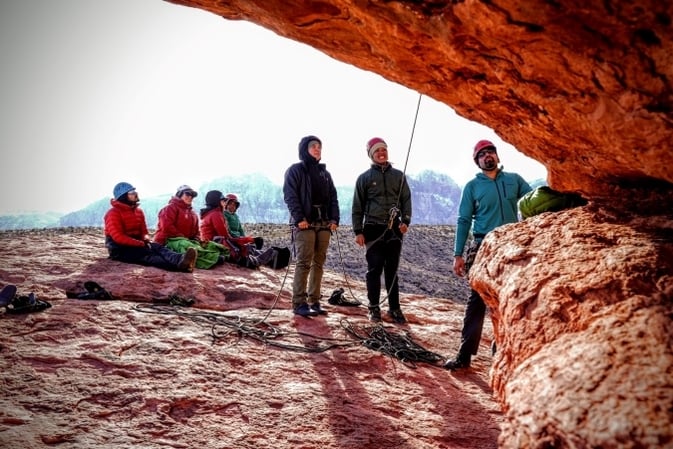 Photo by Justin Forrest
Every aspect of leadership development, from trust building, to effective communication, to problem-solving skills tie back to the importance of good expedition behavior, a foundational leadership skill. 
During NOLS rock climbing courses, students are exposed to real-world situations where they must take initiative, balance personal and group goals, and maintain respect and inclusivity within the team, all of which contribute to making an effective leader. 
Whether you're belaying a peer, setting anchors, or navigating challenging terrain, you'll learn to prioritize risk management and teamwork, setting the stage for future leadership endeavors. 
Self-awareness, group dynamics, and goal-setting are essential components of good climbing technique and leadership development. At NOLS, you learn to balance personal goals with the group's objectives, all while harnessing your focus and resilience to achieve them. This process is crucial for tackling challenging routes and improving your technical climbing skills.
The process of goal setting not only helps you stay focused on your progress, assess your strengths and weaknesses, and develop climbing strategies that fit your abilities; it also helps you gain self-awareness that is essential to both rock climbing and navigating group dynamics. 
Become a Leader While Developing Your Climbing Technique!
Next time you picture yourself at the base of that imposing sandstone cliff, know that the mixture of excitement and apprehension is entirely natural, and that, with NOLS you are taking the first step toward gaining the confidence, trust, and leadership ability to be successful on a variety of climbs and in a variety of settings.
Become a competent climber with NOLS and gain the confidence and abilities necessary to lead and inspire others. Start planning your rock climbing course adventure today!
Source link: https://blog.nols.edu/beyond-rock-climbing-techniques-building-leadership-and-teamwork by NOLS at blog.nols.edu