Embarking on a gap year abroad is an incredible opportunity to broaden your horizons, gain valuable intercultural competencies, nurture a deeper understanding of foreign cultures, engage in intensive language study, and develop valuable life skills.
By fully immersing yourself in the culture of a new country, you can experience local communities, learn a new language, and participate in cultural exchange.
Photo by Richard Hsieh
What is Cultural Immersion?
Cultural immersion gap year programs involve fully immersing oneself in a foreign culture, and embracing its traditions, values, and customs.
By living and interacting with locals, you"ll gain a profound understanding of their way of life, fostering empathy, cultural sensitivity, and global awareness.
Immersing yourself in another culture allows you to see the world through a different lens and promotes personal growth and development.
Not only are these skills, experiences, and worldviews looked upon favorably by college admissions counselors and future employers, but they also offer intrinsic value.
What to Look for in Your Gap Year Program
Some countries are better than others when it comes to executing trips abroad that focus on cultural exchange and immersion.
Keep in mind that the level of cultural immersion available to students through a gap year or gap semester abroad program can vary depending on factors such as the country's history, traditions, language, and openness to international visitors.
When it comes to planning a gap year or gap semester abroad, there are three main aspects of cultural immersion that students typically look for:
opportunities to develop language skills
opportunities to live and learn among local communities
opportunities to work with the local environment
Follow along for a list of the top-rated gap year destinations that are perfect for students who want to fully immerse themselves in the language, cuisine, history, customs, and environment.
Best Destinations for Gap Year Programs that Focus on Language Skills
Many gap year students look for gap year programs that offer total language immersion in a language they are already familiar with, with the goal of improving their language fluency.
Other students might want to gain basic language skills in multiple languages, in which case embarking on a gap year program in a country where two or more languages are common is ideal.
Whatever your goal, gap years that focus on strengthening language skills will help you improve communication skills, break down language barriers, connect with locals on a deeper level, and engage in meaningful conversations. Here are some recommended destinations for language immersion: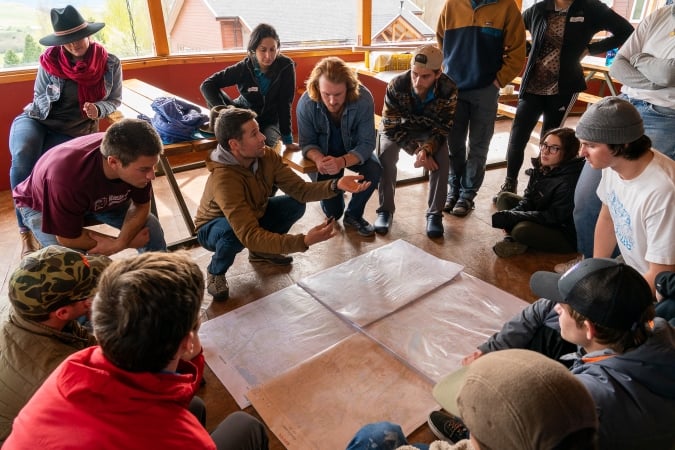 Photo by Oscar Manguy
Gap Year Programs in Mexico: A NOLS gap year in Mexico offers an exceptional opportunity for language immersion. NOLS Mexico is our first international campus and our team's cultural, generational, and language diversity give it a vibrant, welcoming atmosphere. This creates an ideal setting to practice and improve your Spanish language skills.
Gap Year Programs in Patagonia, Argentina/Chile: Embark on a NOLS gap year in Patagonia and immerse yourself in a language-rich environment. As you explore the rugged landscapes of the Aysén and Magallanes regions, you'll have the perfect opportunity to practice and improve your Spanish language skills. From backpacking and climbing to sea kayaking and mountaineering, each adventure starts at the NOLS Patagonia campo, where you'll engage with our in-town staff and instructors in meaningful conversations. As you listen to the stories of local families who have called Patagonia home for generations, your Spanish fluency will grow, deepening your connection with the culture and enhancing your language immersion experience.
Gap Year Programs in India: Journey through picturesque alpine villages while honing your conversational Hindi skills through interactions with local community members. Backpacking adventures provide the perfect backdrop for practicing and refining your language abilities. Engaging in conversations with locals not only enhances your language fluency but also offers valuable insights into the diverse cultural tapestry of India. Discover the joy of connecting with others through language and expand your intercultural competence during this transformative gap year program.
Best Destinations for Gap Year Programs that Focus on the Local Community
Living within the local community of a new country is a profound way to experience the local culture. From learning the customs and traditions of indigenous cultures to engaging in sustainable community development projects with the locals, these carefully selected destinations provide an enriching blend of cultural immersion and community engagement.
Here are some of the best gap year programs that prioritize authentic interactions with local communities, ensuring your gap year is not just about exploring the world, but about making meaningful connections and gaining cultural awareness:
Gap Year Programs in New Zealand: A NOLS gap year in New Zealand also offers an extraordinary opportunity to immerse yourself in the rich tapestry of native and local cultures. As you traverse this stunning landscape, you'll meet members of a local Maori community at a marae, or meetinghouse, delving into their captivating way of life, both past and present. Gain insights into native and local customs, traditions, and deep-rooted connection with the land. Prepare to embark on a transformative cultural exploration, weaving together the remarkable stories and traditions of the indigenous communities with the natural beauty of this breathtaking country.
Photo by BJ Klophaus
Gap Year Programs in Mexico: You'll have ample opportunities to immerse yourself in the backcountry, whether by kayaking, sailing, or hiking directly from campus. During your adventure, you'll engage with local communities, experiencing firsthand the cultural nuances that define the region. Through the conversations and meals shared with locals, you'll gain insights into the rich history and culture of the region.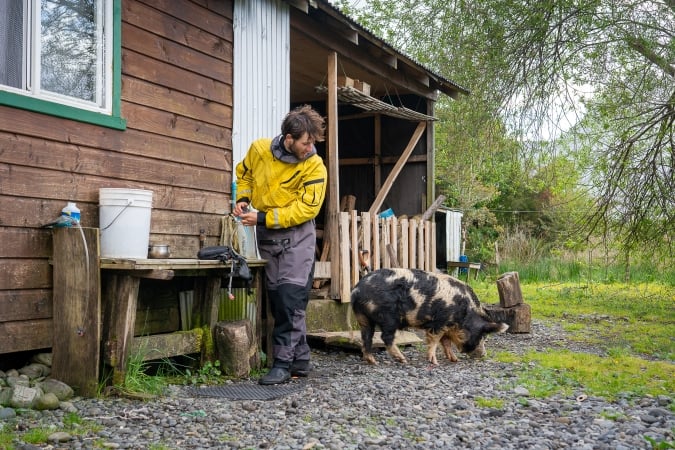 Photo by Oscar Manyguy
Gap Year Programs in Patagonia, Argentina/Chile: From the steppes and temperate rainforests to alpine ecosystems and ocean fjords, you'll traverse these distinct environments and witness how the local ranchers and settlers, known as pobladores, have adapted to life in each unique setting. Through NOLS's longstanding relationships with the local communities, you'll have the privilege of regular interactions, and gaining insights into their traditions and way of life. Some courses even offer homestays with Chilean host families, immersing you in the daily routines and customs of the locals.
Gap Year Programs in Tanzania, East Africa: Immerse yourself in the vibrant local communities of Tanzania through a NOLS gap year program in East Africa. You'll gain a deeper understanding of the native culture, traditions, and history of the region by becoming a loololan traveler instead of a typical tourist. During your course, you'll have the rare opportunity to hike alongside a Maasai liaison, who will serve as a knowledgeable guide, providing firsthand insights into the local culture, ecology, and history. This unique experience allows you to forge authentic connections with the community, fostering cross-cultural understanding and empathy. Additionally, many of our East Africa gap years include a homestay, which means you'll have the privilege of participating in your host family's day-to-day life. From accompanying children to school and assisting with daily tasks to engaging in service projects, you'll gain a genuine appreciation for the customs and rhythms of Tanzanian life.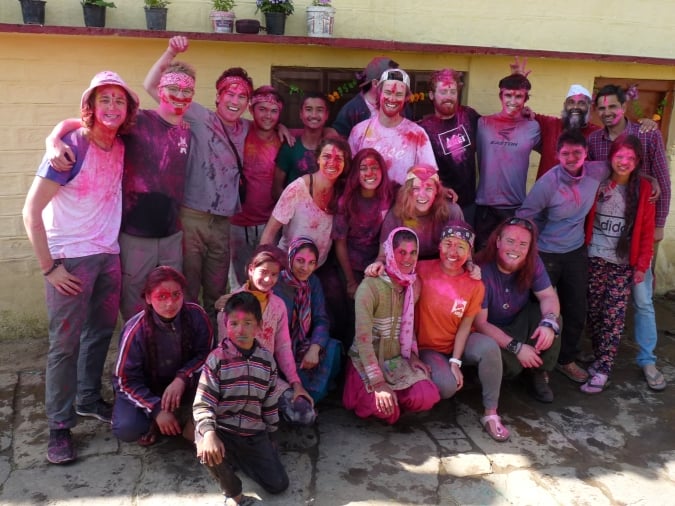 Gap Year Programs in India: A NOLS gap year in India provides an exceptional opportunity to delve into the vibrant native and local cultures of the region. As you develop mountaineering skills amidst high-altitude glaciers or navigate the thrilling rapids of the Kali River, you'll have the privilege of encountering the unique cultures of the Kumaon communities. From learning traditional greetings like "namaste" to delving into local ecology and history through classes, your engagement with the communities along your journey will enrich your wilderness experience. On courses featuring homestays, you'll gain firsthand insights into the daily lives of host families, participating in their routines and rituals.
Best Destinations for Gap Year Programs that Focus on the Local Environment
For many cultures around the world, nature holds extreme significance. NOLS offers gap years in multiple countries that focus on exploring and honoring these connections between culture and environment. For gap year students who are passionate about wilderness education, environmental conservation, and agriculture, these NOLS gap year programs are the perfect fit. Exploring the natural surroundings, whether it's hiking in mountains, visiting coastal areas, or learning from rural farming communities, provides a deeper appreciation of the local way of life and allows students to see the environment from a new perspective.
Here are some recommended destinations for gap years that focus on understanding the local environment: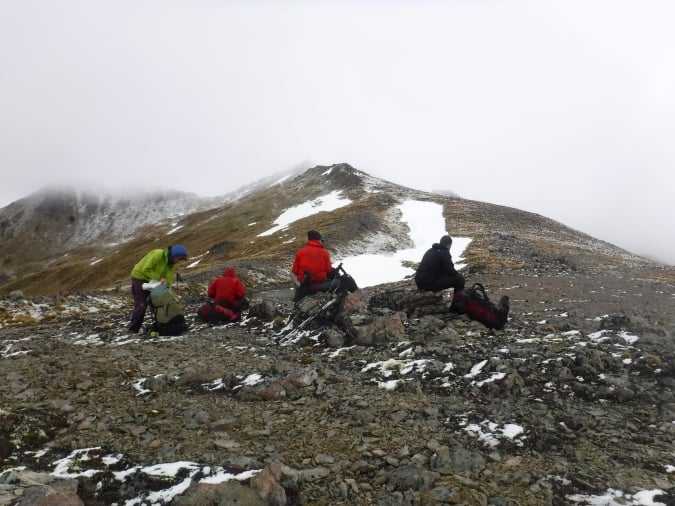 Photo by Paige Shetty
Gap Year Programs in New Zealand: As you step foot on our campus, you'll have the chance to meet our diverse group of local instructors and in-town staff, immersing yourself in the vibrant community. Once in the field, you'll delve into a range of technical skills, including backpacking, mountaineering, keelboat sailing, whitewater canoeing, and sea kayaking. Sail a keelboat in the breathtaking Marlborough Sounds or navigate the pristine waters on a sea kayak, discovering hidden rocky coves and sandy beaches. Journey across lush river valleys, beech forests, and rugged peaks, while keeping an ear out for the distinct call of the kea, a unique mountain parrot found solely in New Zealand. New Zealand's ever-changing weather, notorious for experiencing four seasons in a single day, adds an element of unpredictability to your journey. Embracing this uncertainty, you'll adapt to the captivating and remote landscape, carrying the warm and welcoming atmosphere of our campus with you as you explore the mountains, valleys, and coastal regions of New Zealand. Through these captivating experiences, you'll deepen your understanding of the local environment and develop a profound appreciation for its natural wonders.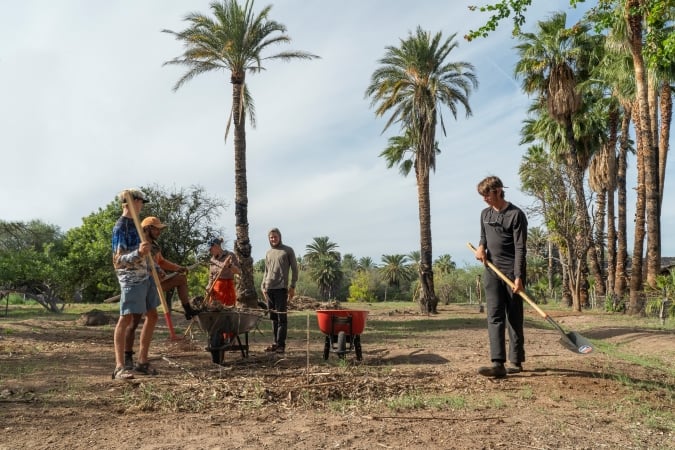 Photo by BJ Klophaus
Gap Year Programs in Mexico: For students passionate about the environment and eager to explore the local ecosystems, a NOLS gap year in Mexico is a perfect fit. From backpacking through the Sonoran desert to paddling in Conception Bay, you'll have the opportunity to immerse yourself in a variety of landscapes, each offering unique lessons about the natural world. Learn essential outdoor skills, ranging from camping and backpacking to sailing and sea kayaking, as you adapt to the challenges presented by Mexico's diverse terrain. In addition to honing your wilderness proficiency, conversations with local experts will allow you to gain a deep appreciation for the region's ecology, and an understanding of the delicate balance that sustains the coastal desert environment. Through firsthand experiences and expert instruction, your NOLS gap year in Mexico will cultivate a lifelong passion for environmental stewardship and a profound connection to the local environment.
Gap Year Programs in Patagonia, Argentina/Chile: The diverse and breathtaking terrain of Patagonia presents an immersive classroom, perfect for students who are passionate about the environment. From sea to summit, you'll explore the region's stunning landscapes while developing a profound appreciation for its delicate environmental balance. Engage in activities such as backpacking, climbing, sea kayaking, or mountaineering, and gain firsthand knowledge about Patagonia's unique ecosystems. Through NOLS's commitment to exploration and collaboration with the local ranchers and settlers, known as pobladores, you'll deepen your understanding of environmental conservation efforts and the significance of sustainable practices in this isolated region.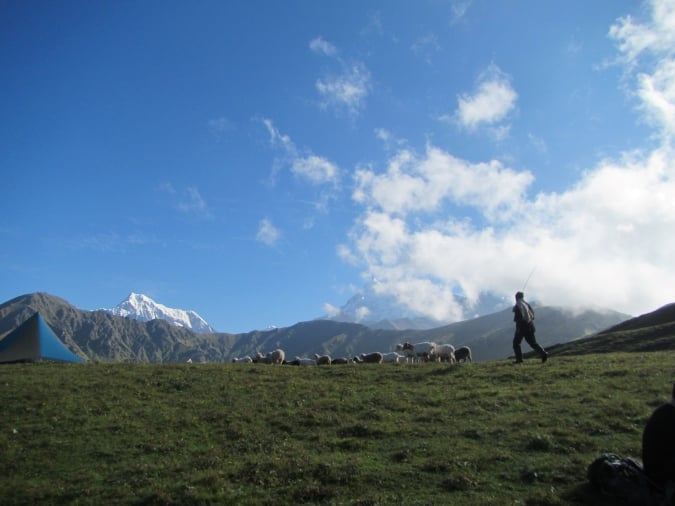 Photo by Kamakshi Sahai
Gap Year Programs in India: The breathtaking Himalayan mountain range serves as your classroom, providing an ideal setting to develop technical skills such as backpacking, mountaineering, or whitewater rafting. As you ascend peaks and practice mountaineering skills on high-altitude glaciers, you'll witness firsthand the delicate balance between human existence and the natural world. Engaging with local community members and attending classes on local ecology and history will deepen your understanding of India's environmental challenges and conservation efforts.
Gap Year in Tanzania, East Africa: Venture into the awe-inspiring landscapes and ecosystems that make Tanzania a treasure trove of biodiversity. With the guidance of expert instructors, you'll have the chance to explore the local environment, learn about its delicate balance, and understand the vital interconnections between culture and nature. Gain firsthand knowledge about the diverse flora and fauna as you hike, study, and witness the ecological wonders of Tanzania. From majestic mountains and pristine lakes to volcanic terrains and captivating wildlife safaris, each step of your journey will deepen your appreciation for the local environment. You'll spend most of the semester living in a tent, mastering the minimum-impact skills of Leave No Trace and learning to cook delicious meals on a camp stove and spend some of your time living with a Tanzanian family during the homestay section.
What Makes a Gap Year Abroad Stand Out on a Resume?
A well-planned and meaningful gap year abroad can provide you with a competitive advantage when it comes to your future career and academic pursuits. Whether your focus is on language skills, immersing yourself in the local community, or learning about the native environment, here's how your time abroad can make a standout impression on your college application or job resume:
Enhanced Academic Performance and Skills Development
A gap year abroad offers unique opportunities for academic growth and skills development. By immersing yourself in different cultures and environments, you can engage in innovative learning techniques that go beyond traditional classroom settings. This hands-on experience allows you to broaden your perspective, adapt to new situations, and become more adaptable and resilient—all qualities highly valued by future employers and university admissions officers.
Earn College Credit and Expand Academic Horizons
At NOLS, our gap year programs provide opportunities to earn college credit and valuable certifications and gain leadership skills, allowing you to combine experiential learning with academic and career-oriented achievements. This demonstrates your proactive approach to education and your willingness to go beyond the conventional academic or career path. The diverse range of subjects and experiences during your gap year can enrich your college career and provide you with a strong foundation for future studies or jobs.
Develop Leadership and Cross-Cultural Skills
Engaging in a gap year abroad provides ample opportunities to develop leadership skills and cross-cultural competencies. As you navigate unfamiliar environments and interact with people from various backgrounds, you'll develop empathy, communication skills, adaptability, and a global mindset. These qualities are highly sought after by future employers who operate in almost any global setting.
Global Awareness and Cultural Sensitivity
A gap year abroad enables you to deepen your understanding of different cultures and societies, fostering global awareness and cultural sensitivity. These attributes are invaluable in an increasingly interconnected world. Employers and university admissions officers look favorably upon candidates who have demonstrated the ability to work and thrive in diverse settings, as it shows adaptability and open-mindedness.
Stand Out from the Crowd
Including a gap year abroad on your resume demonstrates your willingness to step outside your comfort zone, take initiative, and pursue personal growth. It highlights your proactive approach to learning and your commitment to self-discovery. It sets you apart from other candidates who may have followed a more traditional academic path, showcasing your unique experiences and perspectives.
A well-structured and purposeful gap year abroad can significantly contribute to your personal and professional development, making you a strong candidate for future academic pursuits and career opportunities. Embrace the transformative power of a culturally immersive gap year abroad and leverage your experiences to make a lasting impression on your resume.
Start Planning Your NOLS Gap Year Abroad Today!
Excited about the possibilities of a transformative gap year abroad? Don't wait any longer to turn your dreams into reality! Schedule a meeting with Kary Sommers, the NOLS Gap Year Advisor, who is here to guide you in choosing one of our gap year programs at every step of the way.
Kary understands the importance of choosing the perfect program to suit your goals and interests. With her expertise and wealth of knowledge, she can provide invaluable insights and help you navigate the planning process, create a reasonable budget for your gap year abroad, and answer any questions you may have about earning college credit.
Don't miss out on this opportunity to embark on a journey of self-discovery, academic growth, and cultural immersion. Start planning your NOLS Gap Year Abroad today and open the door to a world of endless possibilities!
Source link: https://blog.nols.edu/gap-year-abroad-cultural-immersion by NOLS at blog.nols.edu